I have a special announcement for you today!
I'm ready to bite the bullet and let you in on something that I've been working on for the past couple of months. What I'm about to share with you is a goldmine of step-by-step training and tutorials to help you launch and grow your own online business and I'm so excited that you're reading this message because I've designed these tutorials for you!
You see, I've been helping people just like you get past the technical hiccups that can stop them from launching a successful and profitable online business. Isn't it interesting to learn that not only hundreds but thousands of entrepreneurs have thought of starting an internet based business but had their dreams disappear in a cloud of frustration, disappointment and defeat by the seemingly endless technical challenges along the way?
Wouldn't it be great if you could have a steady source of simple step-by-step instructions that are so easy to follow, it's not any more challenging than, say watching TV?
That's what you'll get when you become a student in the DotCom Mechanics Virtual Classroom.
Drum Roll Please…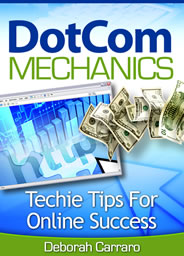 I'm super excited to announce that I've just opened the doors to the DotCom Mechanics Virtual Classroom. Let me tell you a bit about how it all works.
Each month, and sometimes several times a month, you'll receive a video tutorial that gives you easy to understand instructions on how to execute certain tasks in your online business.
Want to learn how to create an opt-in offer to help you grow your mailing list? There's a video for that.
Or how about how to create, write and deliver an ezine? There's a video for that!
Maybe you want to host a teleseminar or create an ebook or produce a DVD or CD?… Yup, there's a video for that!
And if there isn't a video for that? Just ask me, and I'll create one for you!
Wouldn't you like to have instant access to the training and support you need to help you avoid the struggle that has ended the dreams of so many other entrepreneurs? Well now you can!
I know how hard it is to juggle the challenges of starting a new business – how hard it is to find the answers to what you need to know quickly – how little time you have to implement the knowledge you've learned. I want you to avoid some of the frustrations that I had to go through to learn everything I needed to learn in order to do what I do.
The DotCom Mechanics Virtual Classroom is designed to be your online business secret weapon. I promise to provide you the best, easiest to follow training on the latest marketing techniques and technologies.
I know there's a huge learning curve when you're first getting your feet wet in the wonderful world of online business. And I want you to feel that you're completely supported and have access to the most up-to-date and simple to master information.
That's why I'm offering a founding scholarship to the DotCom Mechanics Virtual Classroom for $12.97 a month because I want you to have affordable access to my ongoing support.
Wouldn't you love to know that you're starting your online business on a solid foundation and with the support of your own Uber Geek and Online Business BFF?
Yup, I bet you would!
So why not go ahead and sign up for a membership and let's get your education started today!
http://dotcommechanics.com