Social bookmarking is a popular field of social networking. And it's easy to understand why. When done correctly, it's a great way to increase visibility, create connections and drive traffic to your website or blog.
What is Social Bookmarking
Social bookmarking is similar in concept to your browser's bookmarks or favorites menu in that it's a way to store, organize and manage links to web content. The difference between your own personal bookmarks and social bookmarks is where they're stored. Personal bookmarks  are stored on your own Computer would and accessed only by you. Social bookmarks are stored on a social bookmarking website and visible by anyone who visits that site.
How does Social Bookmarking work?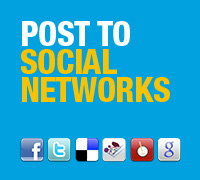 Nothing too complicated here: if there's a link you want to remember, you can add it to a social bookmarking site. Remember: it's just like the bookmarks in your favorite browser. You want to save a link, you bookmark it. The bookmark can usually be set as public (visible by anyone) or private (visible only to you).
From an aggregate perspective, bookmarks shared on a social bookmark site can usually be viewed by visitors to the site chronologically or by category or by popularity. Some of the bookmarking sites allow users to leave comments on bookmarks, share bookmarks with other social networks or rate the bookmarks. Rating popularity or sharing them makes them more visible and increases their popularity. Since bookmarks can be sorted by the viewer by popularity, if your bookmark makes it to the front page of a social bookmarking site, you can capture a sizable amount of traffic.
That's why you see social sharing icons on most blogs ( including this one): to make it easy for readers to share content because social bookmarking is largely user driven. Users do most of the work.
Adding Social Bookmarking Functionality To Your Blog
There are many WordPress plugins which will add buttons to submit your content to the most popular social bookmarking and social news sites easily (in most cases with one click). I covered one of the popular ones, Sexy Bookmarks, on my blog last year  but there are others including Sociable, ShareBar and WP Socializer.
With any of these plugins, adding buttons to submit your content to social bookmarking sites is easy to do and could result in a huge payoff. By having links on the same page as your content, you make it a lot easier for your reader to share your content with their favorite social bookmarking site.
Social Bookmarking Sites
This is by no means a comprehensive list of social bookmarking sites. I personally have accounts at over 30 sites and am always on the lookout for more.
Digg.com: Digg is a social news website for sharing content. Links are submitted for voting and commenting by users. Links with the most votes make it to the front page which usually directs a lot of traffic to the shared content.
Reddit.com: Reddit is a social news website for sharing content. Like Digg, users can vote content up or down  links with the most "up" votes make it to the front page. Reddit rewards users who frequently submit content that getspositive votes and punishes users who frequently submit links that get negative votes.
Delicious: Delicious is a social bookmarking site for sharing content. Delicious can tag their bookmarks with keywords or index terms. Visitors to the site can be searched by the index terms to find content.
Bookmarkers Beware
There aren't too many things to watch out for when using social bookmarking sites but one of the things I see often is users who only submit their own content to the social bookmark sites. Most social bookmarking sites have systems in place to evaluate the quality of any given users submissions. Going back to the similarity between social bookmarks and your own personal bookmarks, if you were to save every blog post you write to your own personal bookmarks, you'd soon discover that your bookmarks would be petty useless to you. The same holds true with social bookmarks. Dozens of links to the same content wouldn't prove very useful to visitors.
Not only that, but if you are constantly submitting content from your own site to the social bookmarking sites, it could make your account look like a spammer.
Consider Delegating Your Social Bookmarking Efforts
There are plenty of sites that offer social bookmarking services and there's even a WordPress based platform that includes automatic submission to the various social bookmarking sites.  Just be sure to do your homework when subscribing.  Make sure that they're not creating new accounts simply for your submission because that defeats the purpose.  And if the service is included as part of your blogging platform, make sure that someone actually monitors those accounts to ensure that they submissions are working.  And again, make sure that you're not the only one submitting under any given profile.
Social bookmarking can increase traffic to your site organically without having to pay per click.  You probably have enough content but you're not sure where or how to leverage it to bring people to your site.  Social bookmarking and article bank submissions are proven to help increase traffic.
Need help with this task? Check out my Social Bookmarking Service